Bruce Turns 50
Worcester's own
Mike Benedetti
sent me a link to his blog post and said I could repost it here. Here's the original text and video. Click the picture to watch the video.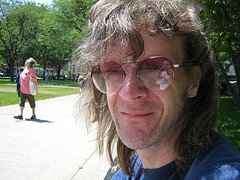 Bruce is 50. Happy birthday! Here's a video we made on Worcester Commons.
The good thing about having him as my spiritual advisor is that he's always ready with advice. The bad thing is, it's not always good advice.
Technorati links:
Worcester Diaries
,
Worcester
,
Mike Benedetti
posted by Carl Weaver at 8:48 PM